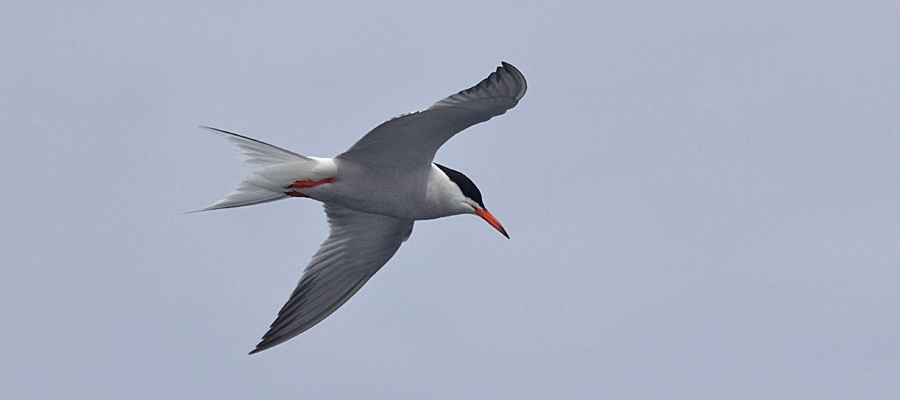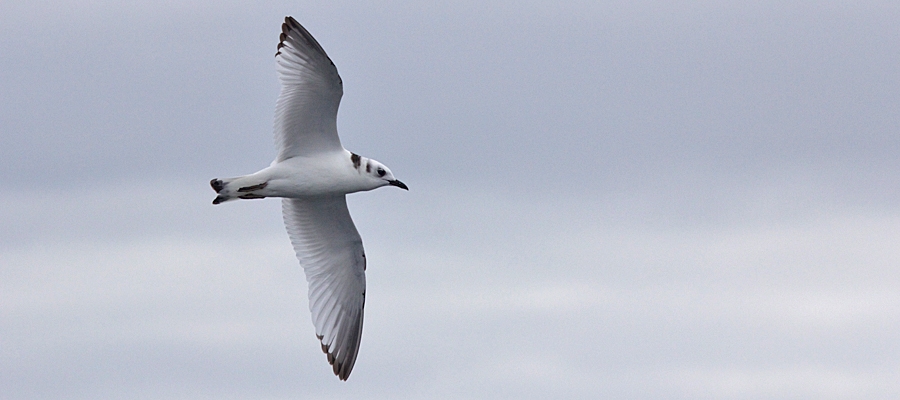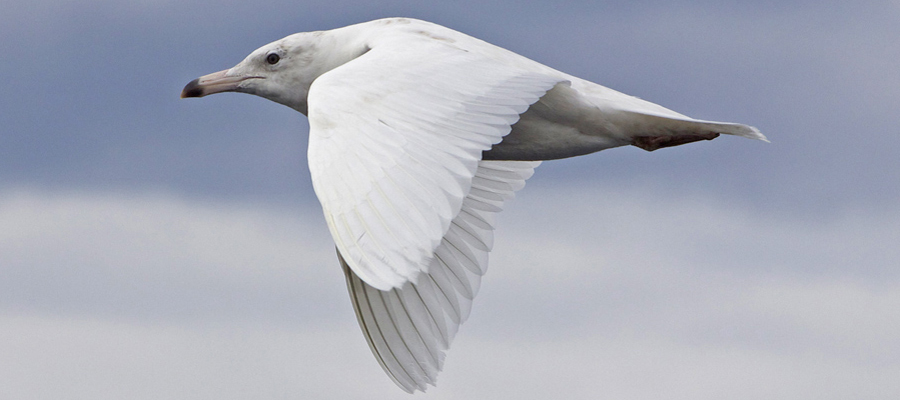 GULLS and TERNS
GULLS
The term "Seagull" refers to a family of birds that are not truly birds of the sea. They really should be called "Shore-gulls" because only a few species routinely venture any great distance from land.
Since Stellwagen Bank and Jeffrey's Ledge are so close to land a good number of "inshore" gull species can be seen on most whale watches.  In my 24 years working for 7 Seas Whale Watch, I have identified 12 species of gulls from the decks of the Privateer or Privateer IV. Those species are Great Black-backed Gull, Lesser Black-backed Gull, Herring Gull (by FAR the most common gull), Ring-billed Gull, Laughing Gull, Bonaparte's Gull, Black-headed Gull, Little Gull, Iceland Gull, Glaucous Gull, Sabine's Gull and Black-legged Kittiwake.
Only two of the species mentioned above are truly pelagic (or "ocean-going"): The Sabine's Gull and the Black-legged Kittiwake.
SABINE'S GULL
The Sabine's Gull breeds in the far north along the shores of the Arctic ocean and is a very rare fall migrant through our area.
Since 1983 I have personally had 6 sightings of a Sabine's Gull while whale watching in the Jeffrey's Ledge/Stellwagen Bank area. I know of a handful more sightings from reliable sources so while by no means common, Sabine's Gulls do occur here regularly and bird watchers visiting the area in late summer and fall should be on the look-out for this beautiful species.
Sabine's Gulls can be recognized by their small size (Length 13.5″ Wing Span 33″), tern-like flight, and by the large white triangles on their wings. A really close look at a Sabine's reveals a black bill with a yellow tip. Juvenile Black-legged Kittiwakes can appear very similar so be cautious before yelling "Sabine's!"
BLACK-LEGGED KITTIWAKE
Unlike the rare Sabine's Gull, the Black-legged Kittiwake is quite common in our area… but not so much during our whale watching season. Kittiwakes are common winter residents in the Gulf of Maine that spend the summer breeding in Nova Scotia, Newfoundland and the Canadian high Arctic (a separate Pacific population breeds in Alaska).  Watch for these birds in April and May and then again in September and October as few individuals may linger in the area long enough in to the spring for us to see them on our first few whale watching trips, or a few may return early enough in the fall for us to see them before stopping our whale watch tours at the end of October..
Kittiwakes are patterned much like the similar-sized Ring-billed Gulls, a species that is also common on Stellwagen Bank and Jeffrey's Ledge. Kittiwakes can be recognized by their wingtips which are purely black but bordered in very pale gray or white. Other Gulls, such as Herring and Ring-billed Gulls, have white spots in the black of the wingtips. The wingtips of the Kittiwake have long been described as looking as if they were "dipped in ink".
TERNS
Terns, like gulls, are predominantly coastal birds. They are patterned much like gulls except they have a black "cap" during the breeding season and are generally much smaller and more delicate than gulls.
Five species of Terns can be regularly seen in our study area (Common, Arctic, Forster's, Least, and Caspian). The Common Tern is by far the most abundant. Common terns are about 12″ in length with a wingspan of 13″ and they have long, thin, blood-red bills with a black tip.
Many common terns are misidentified as Arctic Terns which only migrate through the area in Spring and Fall. Arctic Terns have captivated the imagination of many birders because they hold the distinction of being the animal with the longest migration on Earth. Each year these birds migrate from their breeding grounds in the Arctic to their wintering grounds in the Antarctic 12,000 miles away. That means that they travel a total of 24,000 miles a year; a distance equal to circumnavigating the globe. All this with just a pea-sized ball of fat on their chest for energy!
Arctic Terns can (with great care) be separated from the very similar Common Terns by their all red bill (no black tip) and by their slightly grayer bellies that give them a "white-cheeked" appearance.
The only other Tern species I've seen on Stellwagen Bank (and beside, the 5 already mentioned) was a Sooty Tern, seen once in July of 1997